Archive for December 2013 | Monthly archive page
I traded my old boss Gerald Richie for this mule a couple years ago. He's a dandy. I was thinking lately about when I first met Gerald way back when. It's pretty cool to have a mule that he raised and a nice picture to look at on a winter's night. I've ridden a few mules, but prefer horses. This guy may never be broke to ride, but I think he'd be a good one if I decide to get a stock saddle on him.
I was asked recently by the National Cowboy Museum and Western Heritage Center in Oklahoma City if I would grant permission to use the floral carving design from this year's TCAA saddle. They are planning on using detail pictures of my carving designs for a variety of events for 2014 including table runners, docent directories, and this design for an advance invitation to the Western Heritage Awards. I would have never thought I'd receive the accolades for my work as it has…what a privilege and honor!
Here is the Mission Statement from the Cowboy Museum:
MISSION STATEMENT

The National Cowboy & Western Heritage Museum preserves and interprets the evolving history and cultures of the American West for the education & enrichment of its diverse audiences of adults and children.
…and from the TCAA:
The Traditional Cowboy Arts Association is dedicated to preserving and promoting the skills of saddlemaking, bit and spur making, silversmithing and rawhide braiding and the role of these traditional crafts in the cowboy culture of the American West.
Sharon Griffes Tarr is a veteran artist who writes a blog that I stumbled onto the other day. I thought it had some interesting things to say and secured permission to copy her words here. You could replace the word 'artist' with the words 'craftsman' and the thoughts still hold up very well.
Sharon Griffes Tarr:
"In the United States, time is money. We all know that and for the most part believe it and live it. We evaluate the cost of products by the length of time it takes to make them. With this mind set, it is only natural for folks to ask artists…"how long did it take you to do that?"  The minute we tell them a plein air painting took less than two hours we've devalued the painting in their eyes. They do not see skill and visual voice as the major factors.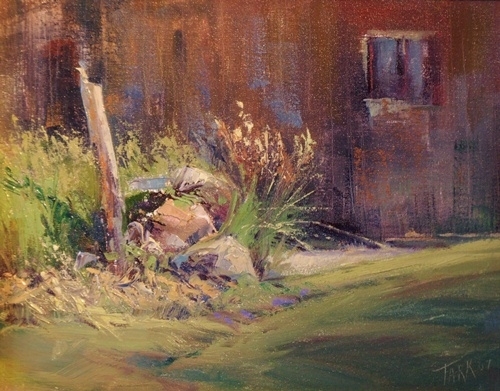 "Field Stones", 8×10″, oil on canvas panel, plein air. Collection of: Mr. & Mrs. Richard Boruszewski
In reality, the value of art cannot be reduced to a measure of time. Sometimes a painting takes weeks, perhaps even months to complete and other times it goes very quickly. So many factors must go into the completion of a work, factors that override in importance the amount of time it takes to paint it.
The artist's accumulated knowledge, experience, technical skill and the message he or she wishes to express are all important measures of the image. So too is it's difficulty as all subjects and creative messages vary in complexity. Time, as a measure of value,  is irrelevant…it has nothing to do with art other than the time it takes to become masterful in what one does…which is, for the record, a very long time measured in years. It may be a lifetime. For this reason, the only logical answer to that question must incorporate the artist's age or length of time he or she has painted plus the hours spent creating the physical aspects of the painting. Therefore, there is only one reasonable answer to "how long did it take you to do that".  For myself, my response is…"50 years and some hours to apply paint to canvas".
It was December 2, 1993. The winter winds in the upper Snake River plain were bitter, raw and angry. But there was roping to be done.
I was determined to get rich in the purebred Galloway business and had cooked a deal to lease some cows to help build our numbers. The cattle I had received from a previous lease arrangement presented a dilemma though. These purebred cows had calves still on them that were untagged. For the records, we needed to keep track of which calf belonged to which cow. I came up with a plan: rope a calf out of the herd, watch to see which cow showed up for a fight, tag the calf, then record both cow and calf numbers. Galloway cows are pretty snuffy, so I believed this idea would work… but I needed some help. I called my friend Pete, who was a much better hand than I. He was an even-tempered man, generous and kind…not unlike many folks who make their living horseback. He didn't hesitate even though daytime temps were in the single digits.
I remember riding my buckskin gelding who was a steady rope horse, thick and reliable. Both of our horses gave what they had, working on December ground that was hard and indifferent. And I remember my bare hands red and stiff…and that relentless wind!  Later I would try to decipher my hieroglyphics in the record book, but we got the job done. Pete and I.
Almost exactly three months later a call came in the late afternoon. Forty-one year old Pete was dead. My good hearted friend had died defenselessly at the hand of another man. Violently. Brutally. Senselessly.
Shock rolled through family, friends, and the entire community. After the memorial service a mutual friend stopped by the shop. Bruce remarked that "I owed him something and now he's gone." Bruce's comments left a mark on me. Pete was more generous with me than I had been to him, and now I couldn't repay the favors.
It will be twenty years ago in March 2014 when we said good bye to Pete and I've thought often about how much we miss him. This Christmas season I am reminded of another debt that I cannot pay. It too involves generosity, an unjust and violent death…and my many shortcomings. But this time the debt is far greater, yet paid in full in spite of myself.
May "tidings of great joy which shall be for all people" resound in our hearts and minds and may God's Peace be with you during this Christmas Season and throughout the New Year, for we are set free from the burden of debt that we cannot repay.
Bill Knight worked for Ray Holes in the 1940's when he returned home from the war. His name never appeared anywhere on any work, yet his imprint is felt even today. Ray Holes designed this carved panel and Bill carved it. This panel appeared in the Ray Holes catalog for many years. Dale Harwood credits Bill Knight for inspiring him yet he never met him. Bill's story is a fascinating one…he also worked for Hamley's in Pendleton, Oregon the entire decade of the 50's. The floral carving at Hamley's made a significant improvement during this time. By the late 1950's, Knight had ascended to shop foreman. But in 1960, he found that he could not support his large family on foreman's wages at Hamley's. He then went into the insurance business and had no presence in the saddle/leather business again.  Bill Knight passed away earlier this year in Portland, Oregon.